Reverse signs of aging at the Wellness and Aesthetics Medical Center
You should never be ashamed of growing older. It's a privilege. However, you do deserve to be proud of your reflection. At the Wellness and Aesthetics Medical Center in San Antonio, Texas, we take pride in offering highly advanced medical aesthetic treatment for our patients.
Let us help you reduce the appearance of fine lines and wrinkles so you can embrace aging and feel beautiful in your skin.
If you want to work with one of the top Botox medical practitioners in Texas, schedule a consultation at our San Antonio Aesthetics clinic today! Call (210) 985-1700 or contact us online!
What is Botox?
With over 30 years of experience in the medical aesthetics field, we make sure we are only providing our patients with the best available anti-aging treatment options. Botox is just one of the facial fillers we offer at our San Antonio medical clinic. With its proven ability to smooth wrinkles, including smile lines, crow's feet, and forehead lines, Botox is a popular choice among many of our patients.
Wrinkles and fine lines form due to repetitive contraction of your facial muscles and only deepen and become more noticeable as you age. Botox is an FDA-approved medical injectable that relaxes your facial muscles and reduces muscle activity in areas where typical wrinkles would form.
At the Wellness and Aesthetics Medical Center, we work with some of the leading licensed Botox specialists in Texas to ensure you achieve beautiful, natural-looking results without compromising facial expressions.
What does Botox treat?
Many of our San Antonio patients leave our clinic feeling more confident than ever. Whether you want to smooth out etched-in lines or crow's feet, Botox is a profound anti-aging solution to temporarily enhance the appearance of wrinkles.
Botox can be used just about anywhere on the face; however, some areas respond better than others. Below are just some of the many areas where Botox has clinically shown to improve.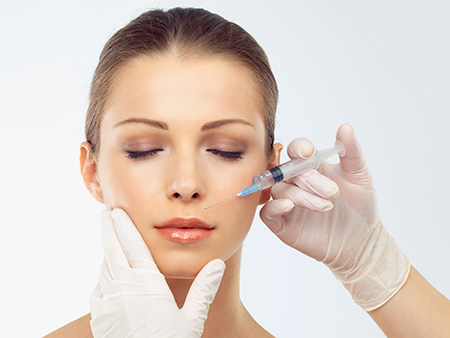 Crow's feet
Furrowed brows
Laugh lines
Lips
Lip lines
Neck rings
Forehead frown lines
Sagging brows
Smoker's lines
Marionette lines or corners of the mouth
Adds fullness to the upper and bottom lip
Dimpled chin
Jawline
Call today to speak with one of our Botox specialists to see if Botox injections are right for you! Call (210) 985-1700 or contact us online!
Our team of highly trained medical aesthetic professionals will work with you to determine which treatment option is best for your unique cosmetic needs.
Benefits of Botox
Our patients rave about their results from Botox. Botox injections provide many benefits and are far superior to any "wrinkle cream" on the market. Below are a few benefits that make Botox a number one choice for individuals looking for a rejuvenated appearance.
A quick and effective procedure for youthful-looking skin
The easiest way to enhance your natural beauty
Minimal downtime allows you to resume daily activities immediately after your treatment.
Results are seen within a few days.
Smooths over wrinkles without compromising facial expression
Simple and safe in-office procedure
A non-surgical procedure that does not require anesthesia
Is Botox right for me?
Perhaps you have tried other fillers or skin serums in the past, but you have yet to get the desired results you are looking for. It is critical to work with a team of aesthetic professionals who take the time to ensure you are completely satisfied with your treatment and absolutely love the results.
Frequently Asked Questions
How quickly will I see results?
You may see results within 24 to 48 hours after treatment and can expect to see full results in 30 days.
How long will Botox last?
Botox will generally last for about 3 to 6 months, but this may vary from patient to patient.
Is Botox Painful?
Botox causes minimal discomfort. We use a topical numbing cream to ensure you are comfortable during the quick procedure. Mild swelling at the injection site is common.
Is Botox Safe?
Botox is backed by over 16 years of published studies and is FDA approved for medical use. Most patients generally tolerate Botox injections with no adverse side effects or complications.
Schedule Your Appointment Today!
Don't wait any longer to experience radiant, smooth skin. Our team at the Wellness and Aesthetics Medical Center in San Antonio, TX, is ready to refreshen and rejuvenate your skin so you can feel confident and happy with your appearance.
Call (210) 985-1700 or contact us online to schedule your first consultation.
---
Our Location
The Wellness & Aesthetics Medical Center
540 Oak Centre Dr, Suite 114
San Antonio, TX 78258
Phone: (210) 985-1700