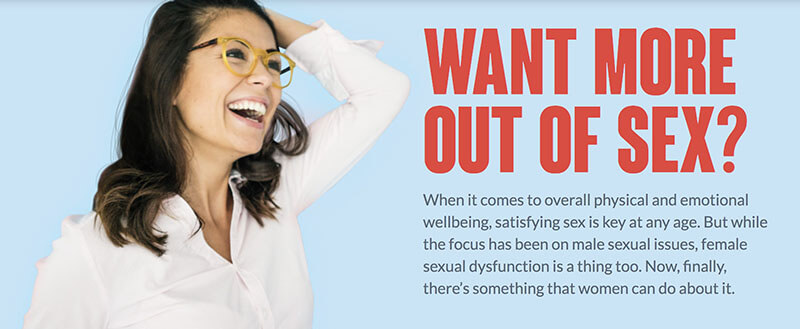 Studies show that 60% of women are unsatisfied with their sex lives. The most influential factor in women's sexual satisfaction is the response of the clitoris. An unresponsive clitoris can affect a woman's arousal levels, cause vaginal dryness, and affect other areas of sexual health.
Cilovana addresses these issues painlessly and non-invasively. By delivering shockwaves to the clitoris, Cilovana encourages the growth of new vascular and nerve tissues. As a result, you are likely to experience stronger and more frequent orgasms for up to a year.
Bring something new to your relationship and improve your sexual satisfaction with Cilovana. To schedule your consultation with San Antonio's top female sexual function specialist, please call (210) 985-1700 or contact us online today.
What is Cilovana?
Cilovana is a safe, non-invasive soundwave treatment protocol that targets the clitoris. It addresses female sexual dysfunction and increases long-term sexual responsiveness.
Is Cliovana for Me?
Cliovana can be used for women of any age who are experiencing:
Low libido
Infrequent orgasms
Inadequate lubrication
The treatment protocol can also help older women who have difficulty finding sexual satisfaction due to numerous age-related physiological factors.
How Does Cliovana Work?

The sound waves used in Cliovana regenerate the soft tissue of the entire clitoral structure.
When a woman is aroused, her clitoris fills with blood, and nerve endings eventually trigger the muscle contractions of an orgasm. Cliovana encourages the creation of new blood vessels to provide your clitoris with blood, as well as the creation of new nerve tissue. Not only does Cliovana stimulate the nerves, but it also improves nerve activity. This all results in enhanced orgasm experience.
Cliovana is completely non-surgical. It does not use probes, needles, scalpels, lasers, or anesthesia, and does not cause freezing or burning.
Cliovana Results
You are likely to experience immediate results after your Cliovana procedure. The results will intensify over the following months and may last for over a year. After 3 months, 90% of women treated with Cliovana reported experiencing more-intense orgasms and better lubrication, while 80% noted improved satisfaction, both overall and with arousal levels specifically.
By improving their sexual health, women may find improvements in other health areas, such as mental health.
Your Cliovana Procedure
Your Cliovana procedure will consist of four sessions spread out among 2 weeks. Each session will last 10 minutes. Cliovana is painless, though you may experience temporary redness.
This protocol has no downtime and you can return to your daily activities (including sex) immediately after the procedure. You may need two Cliovana sessions each year to maintain results. Talk to Dr. Williams about scheduling a follow-up appointment.
Schedule Your Consultation Today!
Cliovana enhances a woman's sexual experience through non-surgical soundwaves. To schedule your consultation with San Antonio's top female sexual function specialist, please call (210) 985-1700 or contact us online today.
---
Our Location
The Wellness & Aesthetics Medical Center
540 Oak Centre Dr, Suite 114
San Antonio, TX 78258
Phone: (210) 985-1700