Cellulite Reduction | Smooth Skin Appearance | Skin Texture Improvement
The EMTONE is the first and only device that simultaneously delivers both thermal and mechanical energy to treat all major contributing factors to cellulite.
Let's face it. Everyone has cellulite. Dimples and skin imperfections are normal, but until now, your only option was expensive creams or surgical procedures to achieve smooth skin. With advancements in medical aesthetics, beating cellulite is finally possible.
At the Wellness and Aesthetics Medical Center in San Antonio, TX, we proudly offer non-surgical cellulite reduction treatment. This groundbreaking technology is a gamechanger for individuals looking for a non-invasive way to smooth dimples.
Sure, you can continue to be unhappy with your lumps and dimples, BUT imagine what it would feel like to feel comfortable showing your smooth, radiant skin boosting your inner confidence like never before.
If you are ready to achieve smooth cellulite-free skin, call to speak with one of our cellulite specialists at our San Antonio aesthetics clinic. You are just one call away from toned, tightened, and dimple free!
Call (210) 985-1700 or contact us online to schedule your consultation.
What is EmTone Cellulite Reduction?
The EmTone is the first and only device simultaneously delivering thermal and mechanical energy to treat all significant contributing factors to cellulite.
Through radiofrequency energy and targeted pressure, this therapeutic treatment is able to treat the root cause of cellulite formation. During the EmTone treatment, your tissue is heated to an ideal temperature that stimulates new collagen formation.
Your body will continue to respond by creating new collagen that will smooth over cellulite. At the same time, the device emits acoustic waves to boost blood circulation, prevent fluid build-up, and jumpstart skin cell regeneration.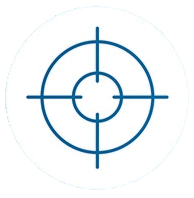 TREATS ALL MAJOR FACTORS OF CELLULITE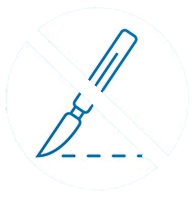 NON-INVASIVE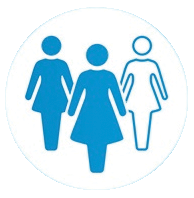 ALL SKIN & BODY TYPES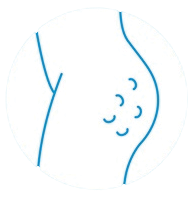 TREATS DIFFERENT TYPES OF CELLULITE
Call the office today and learn more about this breakthrough treatment!
What does EmTone treat?
Cellulite can be stubborn and challenging to get rid of. If you have tried everything to reduce the appearance of cellulite, including losing weight, yet you are still unsatisfied with your skin, EmTone treatment is an excellent treatment option for you.
The EmTone device is FDA-cleared and successfully treats cellulite and skin laxity in various areas.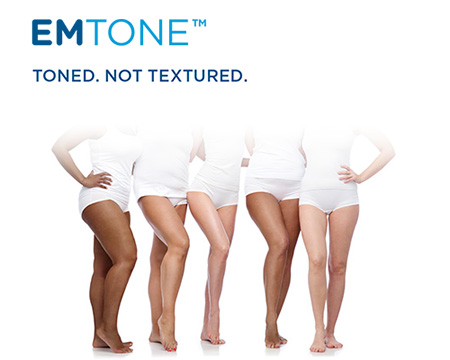 Buttocks
Abdomen
Upper arms
Inner thighs
Outer thighs
Love handles
Lower buttocks
The front & back of the thighs
knees
Arms
At the Wellness and Aesthetics Medical Center, we take the time to understand your health and aesthetic goals fully. Whether you are looking to smooth cellulite or improve loose skin, our medical aestheticians are ready to help you achieve all of your aesthetic goals.
Schedule your first consultation with a skin specialist today! Call (210) 985-1700 or contact us online.
IN SEARCH OF SMOOTHNESS
American women spend roughly $6B a year in search of smoothness. Until now offerings have only focused on 1-2 causes of cellulite.
FAST FACTS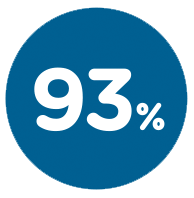 VISIBLE REDUCTION
IN CELLULITE1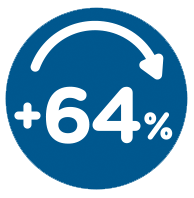 HIGHER INCREASE
OF ELASTIN FIBERS2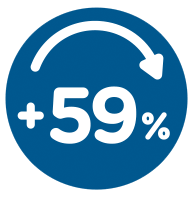 HIGHER INCREASE
OF COLLAGEN2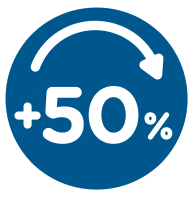 FASTER THAN STAND ALONE THERAPIES2
What are the benefits of EmTone Cellulite Reduction Treatment?
We know you will love the profound benefits of EmTone Cellulite Reduction therapy. EmTone is a leading treatment option and a popular choice among many of our San Antonio clients.
It's a quick and non-invasive treatment that will leave you feeling beautiful in your own skin. Below are just a few of the many benefits and reasons why you should choose EmTone.
Nonsurgical
Safe and effective
Tightens loose skin
Promotes new collagen formation
Perfect for all skin and body types
Reduces the appearance of cellulite
No recovery time
Treats different types of cellulite
Therapeutic procedure with minimal discomfort
UNLOCK EMTONE TODAY
EMTONE addresses all major contributing factors to cellulite.
REQUEST A CONSULTATION
How does EmTone differ from other devices?
You may have researched other options for cellulite treatment, but we can assure you there are some profound benefits to using EmTone over other devices.
Most similar devices on the market only do one or the other- tighten skin or reduce fatty tissue. In order to accomplish similar results to what the EmTone device produces, you would have to undergo multiple treatments from different devices at multiple practitioners.
Why undergo treatment from two different devices when you can accomplish better results with just one? Plus, not to mention the amount of money and time saved for better results.
EmTone Cellulite Reduction has proven to show:
93% visible reduction in cellulite
64% higher increase of elastin fibers
59% higher increase in collagen
50% faster than stand-alone therapies
Unfortunately, exercise alone may not be enough to treat lumpy-looking or loose skin. Bringing in experts with innovative solutions such as EmTone Cellulite Reduction is the key to achieving cellulite-free skin. The Wellness and Aesthetics Medical Center in San Antonio is a leading healthcare clinic in Texas and a top choice for cellulite treatment. We work with you to ensure you receive top care and optimal results.
Request Your Appointment Today!
Call today to speak with a leading skincare expert to learn more about EmTone Cellulite Reduction therapy in Texas. Schedule your appointment today and discover what EmTone can do for you!
Call (210) 985-1700 or contact us online.
---
Our Location
The Wellness & Aesthetics Medical Center
540 Oak Centre Dr, Suite 114
San Antonio, TX 78258
Phone: (210) 985-1700
---
Results and patient experience may vary. As with any medical procedure, ask your doctor if the EMTONE procedure is right for you. EMTONE is intended to provide heating for the purpose of elevating tissue temperature for selected medical conditions such as temporary relief of pain, muscle spasms, and increase in local circulation. EMTONE massage device is intended to provide a temporary reduction in the appearance of cellulite. ©2019 BTL Group of Companies. All rights reserved. BTL® is registered trademark in the United States of America, the European Union, and other countries. The products, the methods of manufacture or the use may be subject to one or more U.S. or foreign patents or pending applications. Trademarks EMSCULPT®, EMSELLA®, EMTONE™, EMBODY®, and HIFEM® are parts of EM™ Family of products. 1. Fritz K, Salavastru C, Gyurova M. Clinical evaluation of simultaneously applied monopolar radiofrequency and targeted pressure energy as a new method for noninvasive treatment of cellulite in postpubertal women. J Cosmet Dermatol. 2018;00:1–4. 2. Brian M Kinney, Dian Kanakov, Penka Yonkova. Histological examination of skin tissue in the porcine animal model after simultaneous and onsecutive application of monopolar radiofrequency and targeted pressure energy. The percentage indicates the level of difference of simultaneous application compared to the consecutive application.