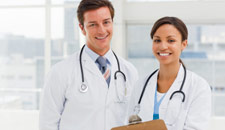 If you have any general health concerns, from the flu to chronic disease, The Wellness & Aesthetics Medical Center is here for you. Offering comprehensive, high-quality health care to each and every one of our patients has always been our number-one priority. Our experienced, professional medical staff is trained to diagnose and treat a wide range of diseases and disorders with the goal of improving your overall health.

The Wellness & Aesthetics Medical Center General Medicine Overview
Executive physicals are meant for ever-busy executives, but they are also available to anyone who is looking for a comprehensive physical exam. Our physicals aim to prevent or detect disease and are performed by medical experts whose goal is your comfort, convenience, and health.
Our Executive Physical Treatment includes
CT without contrast of Brain
CT without contrast of Neck
CT without contrast of thoracic Spine
CT without contrast of Lumbar Spine
CT without contrast of Abdomen
CT without contrast of Pelvis
CT Angio of Chest
DEXA Scan
Virtual Colonoscopy
Screening Mammogram or Thymography for Women
Preventative labs with comprehensive hormonal panel
Genetic Testing
One body part laser hair reduction
Call The Wellness & Aesthetics Medical Center today at (210) 985-1700 to set up an appointment, or stop by our office.
---
Our Location
The Wellness & Aesthetics Medical Center
540 Oak Centre Dr, Suite 114
San Antonio, TX 78258
Phone: (210) 985-1700