Juvéderm Lip Injections: Get the look you desire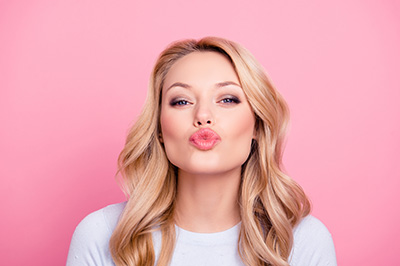 Do you desire natural, voluminous lips? If you are ready to LOVE your lips, let our aesthetic specialists at the Wellness and Aesthetics Medical Center in San Antonio help you achieve perfect plump lips.
We utilize only the best treatment options on the market to ensure you achieve the look of your dreams. We offer Juvéderm lip injections to clients that come in two subcategories of fillers to better suit your specific needs.
Juvéderm Lip Injectables have been a gamechanger for our Texas patients. To learn more about our injectable treatment options, call our aesthetic specialists in San Antonio today at (210) 985-1700 or contact us online.
What are Juvéderm Lip Injectables?
Transform the shape and volume of your lips with Juvéderm lip injectables, a safe and effective treatment option to restore a youthful look. Juvéderm is a leading lip filler that offers different formula options specific to your needs. Our medical aesthetic experts will work with you to determine which formula is best for the desired look you would like to achieve
At the Wellness and Aesthetics Medical Center, we provide profound lip injection results with both Volbella and Ultra XC. These two top-of-the-line products use a soft gel-like material called hyaluronic acid to help temporarily fill and smooth your lips.
Hyaluronic acid is a naturally occurring substance found in your body that helps keep skin hydrated and smooth. You can achieve instant volume after your injections, leaving your lips fuller and smoother with more definition.
Juvéderm Volbella XC Lip Injections
Volbella lip injections are an excellent option for individuals with smaller lips looking to increase the volume gradually. This FDA-approved dermal filler will help reduce the appearance of fine lines around the mouth and add a subtle boost in volume to your lips. Volbella is a thin and lightweight material that offers a natural feel and natural-looking results.
Juvéderm Ultra XC Lip Injections
If you are looking for instant dramatic volume, Ultra XC lip injections are our top recommendation and a popular choice amongst our San Antonio patients. FDA-approved, Ultra XC injection formula is a thicker consistency resulting in significant fuller volume. For stunning, show-stopping lips, Ultra XC lip filler is your answer!
Benefits of Juvéderm Lip Injectables?
If you're on the fence about getting lip injections or you're unhappy with past products, our leading experts in the field are here to answer any questions or concerns you may have. Whether you and your practitioner decide to go with either Volbella or Ultra XC, both sub-classes of Juvéderm injectables have a lot to offer.
Check out some of the amazing benefits of our injectable lip treatments below.
Non-surgical procedure
Zero downtime
No anesthesia required
Safe and effective treatment
Comfortable with little to no pain
Smoothens lips and reduces fine lines
Adds volume and natural plump
Are Juvéderm Lip Injectables right for me?
Working with the right medical aesthetic specialist is vital when it comes to achieving your desired look. Your results will be natural-looking when you get lip injections done by a professional. Don't risk your results by going to just anyone. Our highly trained team comes up with a very specific strategy for your injectables to make sure you get the best possible outcome.
---
Frequently Asked Questions
What is the lip injection procedure like?
Lip injections involve a series of tiny injections in strategically placed areas of your lips to enhance volume and reduce fine lines and signs of aging. A topical numbing cream is applied for comfort, and the procedure will take approximately 30-45 minutes.
How long does it take to see results?
Results vary from person to person; however, you will notice instant results that will last anywhere from 3-9 months.
How many treatments will I need?
In general, most patients can achieve their goals within one visit with just one syringe.
What is the follow-up care after lip injections?
Most patients can return to their typical day-to-day; however, you may experience slight swelling. We recommend keeping your lips hydrated after your treatment and may also recommend lightly massaging the area if needed post-treatment.
---
Request Your Appointment Today!
Are you ready for beautiful, voluptuous lips? Now is your opportunity to achieve all of your aesthetic goals! Call (210) 985-1700 to book your consultation today or contact us online.
---
Our Location
The Wellness & Aesthetics Medical Center
540 Oak Centre Dr, Suite 114
San Antonio, TX 78258
Phone: (210) 985-1700