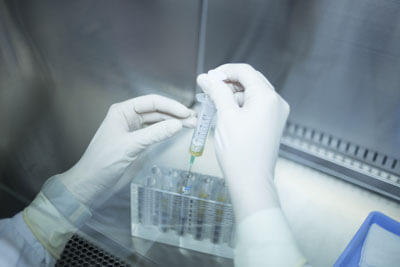 Are weak, short-lived erections causing you to fear you've lost your sexual prowess? Is erectile dysfunction damaging your self-esteem? Is your partner suffering from disrupted intimacy?
It may be time for a P-shot.
After researching 30 years' worth of clinical trials on PRP efficacy, Dr. Vernon Williams has delivered Priapus shots for over a decade – long before they were a national trend. That's why his P-shot success rate is stellar. He has also meticulously shared his technical skills and PRP therapy expertise with his team at The Wellness & Aesthetics Medical Center.
This natural, clinically validated, time-proven treatment taps the growth factors in your own blood to help reduce or eliminate Erectile Dysfunction and Peyronie's Disease symptoms, by improving your circulation and regenerating damaged penile tissue. That means powering up your erections to rejuvenate your sexual performance and reviving your sexual satisfaction.
You don't have to suffer in silence. To discover how the P-shot can help restore your sexual power and resolve your ED or Peyronie's disease, call the most experienced Priapus shot provider in San Antonio.
Regain your ability to savor your sexual power, self-esteem, and intimate relationships. For a discrete consultation call (210) 985-1700 or contact us here.
What causes erectile dysfunction?
A slew of physiological and emotional factors may be contributing to your ED.
As men age, blood flow to the penis slows, reducing the capacity for firm erections and spontaneous sex. ED can also be a temporary condition caused by stress, exhaustion, depression, or medical conditions like diabetes, heart disease, high cholesterol, or high blood pressure. Decreased blood flow to the penis combined with a minor physical injury may diminish sexual response, leading to performance anxiety.
Penis injury can cause Peyronie's disease resulting in scar tissue build up that doesn't stretch during erection. Such penis bending can make erections and intercourse painful.
Improving general blood circulation and introducing growth factors to damaged penile tissue can help enhance your sexual health – both physically and emotionally.
Your priapus shot procedure
The P-shot is one of today's most innovative ED treatments, and Dr. Williams has taken many painstaking years to master the highly delicate and technical procedure.
To create your PRP serum, he will draw a small sample of your blood and spin it in a centrifuge to extract the plasma rich platelets, which can contain up to ten times more growth factors than the rest of your blood.
Then, he'll pour the platelet and growth factor rich serum into a syringe, and, guided by state-of-the-art ultrasound imaging, inject it into your corpus cavernosum – the penal region responsible for erection related vascular functions.
The following growth factors will immediately gravitate to damaged tissue and get to work regenerating damaged and dormant cells: vascular endothelial growth factor (VEGF), fibroblast growth factor (EGF), transforming growth factor-beta 1 (TGF-β1) hepatocyte growth factor (HGF), and insulin-like growth factor (IGF-1).
Studies show that these powerful proteins can:
Improve nerve and vascular function
Regulate inflammation
Promote soft tissue cell regeneration
Increase erection size, strength, and duration
This extraction, injection, and recovery process usually takes between 30 and 60 minutes. There is virtually no downtime or hospital stay required. Results are usually evident within 1-3 weeks, and some men report they last up to a year. As with any medical procedure, priapus shot results will vary depending on your age, genetics, general health, and environmental toxin levels.
Reserve your appointment
Don't let a minor dysfunction rob you of one of life's greatest pleasures and the health benefits it brings. Revive your sexual drive and performance. Elevate your mood along with your erection. Call the sexual health specialists at (210) 985-1700 or contact us here.
---
Our Location
The Wellness & Aesthetics Medical Center
540 Oak Centre Dr, Suite 114
San Antonio, TX 78258
Phone: (210) 985-1700