PHOENIX PRO FOR MALE ENHANCEMENT AND ERECTILE DYSFUNCTION
At The Wellness & Aesthetics Medical Center in San Antonio, we understand how important it is for you to have a healthy sex life. This is why we're proud to announce that we're now providing a new therapy device at the clinic that you can actually use at home. This new therapy, the Phoenix Pro, can be used in between your GAINSWave therapy sessions or can be used on its own.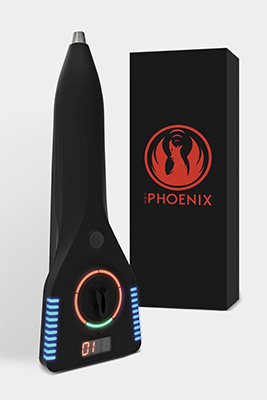 WHAT IS PHOENIX PRO?
The Phoenix Pro is a therapeutic device that can be used at home to improve your performance in the bedroom. That means no pills, no injections, and no surgeries. The Phoenix Pro will amplify blood flow, increase sensitivity, and decrease your refractory time. Each acoustic wave therapy treatment takes twenty minutes, and results will start pouring in.
HOW DOES THE PHOENIX PRO WORK?
The Phoenix Pro issues twenty thousand pulses of acoustic sound waves into parts of the penis to upgrade your sexual performance naturally. At The Wellness & Aesthetics Medical Center, one of our highly qualified specialists will work with each patient on setting up their own unique assignments to ensure that the best treatment is being issued when you do the therapy at home.
These acoustic sound waves help increase blood flow to the penis and build new tissue, increasing sensitivity. If you are suffering from ED, don't wait any longer to get the results you want. We are one of the top male sexual health clinics in Texas helping men regain their vitality. Give us a call today to set up a consultation (210) 985-1700.
WHAT TO EXPECT?
As far as results are concerned, each patient will react differently to The Phoenix Pro. It really depends on the severity of the ED that you're experiencing. Individuals suffering from mild symptoms of ED have shown to react more quickly to The Phoenix Pro therapeutic treatment. Even so, most treatment users have experienced noticeable results within the first 90 days of treatment.
And what about pain? This always varies from patient to patient. While most users have reported feeling no pain at all, some more sensitive users have reported mild discomfort while undergoing treatment. The Wellness & Aesthetics Medical Center recommends using a topical numbing cream that will help alleviate this discomfort.
TREATMENT FOR ERECTILE DYSFUNCTION
There are more than three million reported cases of erectile dysfunction each year. The cause for ED can range from many different things - including heart disease, high blood pressure, and depression.
Treatment also varies. The Wellness & Aesthetics Medical Center in San Antonio specializes in identifying which treatment is best for you. In many cases, The Phoenix Pro is found to be the best solution for our patients.
With Phoenix Pro, you are resolving your ED problem through natural means, rather than becoming dependent on medication or possibly even attempting surgery. Our patients can't say enough how The Phoenix Pro has improved their relationship and improved their self-confidence in and out of the bedroom.
TREATMENT FOR PEYRONIE'S DISEASE
Peyronie's Disease is caused by repeated injury to the penis. These injuries typically happen during sex or physical activity. Peyronie's Disease will usually cause a significant bend in the penis or pain while experiencing an erection. Plaque, or scar tissue, will build up inside the penis, causing the bend to the penis and those painful erections. Many men who suffer from Peyronie's Disease go undiagnosed because they never visit a clinic. This disease is treatable, and we are here to help.
The Phoenix Pro has been proven to be successful in treating Peyronie's Disease. The acoustic wave therapy has shown that 92 percent of Peyronie's Disease users have experienced less pain after treatment. The acoustic wave therapy breaks up that plaque, helping to eliminate that curve to the penis, thus eliminating the pain.
TREATMENT FOR SEXUAL ENHANCEMENT
Erectile dysfunction has a way of really fracturing your self-confidence. The most common thing said by users of The Phoenix Pro is that their partner is satisfied with the results. You will experience stronger erections, an increased sexual appetite, and a boost in your self-confidence that can't be denied or ignored.
Many of our patients have reported to us that they use The Phoenix Pro in between their GAINSWave shockwave therapy sessions at our clinic and can't express enough how well this product works with the routine that our team provides them.
SCHEDULE YOUR APPOINTMENT TODAY!
Call The Wellness & Aesthetics Medical Center in San Antonio today to speak with one of our specialists today, Call The Wellness & Aesthetics Medical Center in San Antonio today to speak with one of our specialists today, (210) 985-1700. Our team is here to help get your sex life back on track and help ensure that you're given the right tools to live a healthy and happy life.
---
Our Location
The Wellness & Aesthetics Medical Center
540 Oak Centre Dr, Suite 114
San Antonio, TX 78258
Phone: (210) 985-1700