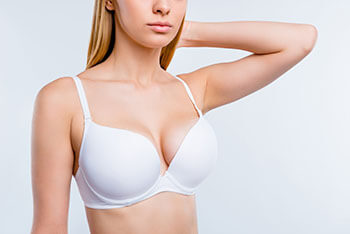 It is becoming difficult to ignore the fact that your breasts aren't what they used to be? Are you quietly googling: "how to get bigger breasts in a week" or "what foods to eat to get bigger breasts"?
If droopy, saggy, or uneven breasts are diminishing your self-esteem and inhibiting your sex drive, you've come to the right place. We know how to increase sex drive in women with breast insecurity: by delivering The Vampire Breast Lift®.
This natural, minimally-invasive procedure enables your own blood platelets to activate the growth of new breast tissue, rejuvenating volume and suppleness. It can essentially make you look like you're wearing a pushup bra when you're not.
How? By stimulating fresh collagen and elastin production, enhancing fatty tissue, and promoting new blood vessel growth via PRP. Yes, the same Platelet Rich Plasma that stimulates cell regeneration in a torn meniscus or a wrinkled forehead can do the same in a saggy breast.
We've always approached The Vampire Breast Lift® as trained scientists and as skilled artisans. Technical training and breast physiology is imperative, but so is the understanding of your aesthetic vision and the precise needle placement required to achieve it.
The most natural breast lift (and esteem lift) available is just a call away. To schedule your Vampire Breast Lift® with licensed medical aesthetics experts in San Antonio, TX, call The Wellness & Aesthetics Medical Center at (210) 985-1700 or contact us here today.
The Benefits of Vampire Breast Lift®
Unlike surgery, this procedure is non-invasive and requires little down time. Because it's autologous, it brings very little risk of rejection or side effects. Natural healing, however is more gradual, and generating optimal levels of breast volume and tone requires abiding by all pre-treatment and aftercare instructions.
When we synergize your own blood's PRP with naturally-occurring hyaluronic acid, we'll enable your Vampire Breast Lift® to:
Promote a more pronounced cleavage
Enhance volume on the top regions of your breasts
Lift up saggy areas
Increase breast and nipple sensitivity
Resolve stretch marks
Correct inverted nipples
Make nipples rosier, perkier, and more sensitive to the touch
Your Vampire Breast Lift®
The regeneration technique we use was developed by and is the intellectual property of Vampire Breast Lift®. It's crucial to be highly hydrated the day before and the day of your procedure to make your blood draw easier.
The week before your treatment you can prepare for optimal results by:
Avoiding ibuprofen, Motrin, Aleve, Naproxen, aspirin, and other NSAIDS
Avoiding corticosteroids
Avoiding alcohol and tobacco
Avoiding ginkgo biloba, garlic, vitamin E, vitamin A, flax oil, curcumin and other anti-¬-inflammatory nutrients
PRP Serum Preparation
We will draw your blood, and spin it in a centrifuge to separate white and red blood cells from your platelets which contain: insulin-like growth factor (IGF-1), fibroblast growth factor (EGF), transforming growth factor-beta 1 (TGF-β1), hepatocyte growth factor (HGF), and vascular endothelial growth factor (VEGF).
Then, we will add hyaluronic acid fillers like Juvederm or Restylane to encourage volume and sculpt fuller, smoother, shapelier, and more supple breasts.
PRP Injection
We will numb the area with anesthetic cream, then inject the PRP serum into strategic areas of your breasts using a very small needle, activating your dormant multipotent stem cells. Those stem cells will soon start signaling the creation of new blood vessels, collagen, and fatty tissue to generate volume.
The procedure takes about 30 minutes and hurts about as much as a blood drawn. Recovery takes about 2 -3 days.
Aftercare
The effects of the Vampire Breast Lift® improve for 2-3 months and can last for 1-2 years. You'll enjoy better results if you:
Avoid NSAIDS like ibuprofen, Motrin, Aleve, Naproxen, aspirin for 5 days after procedure (Tylenol is OK for pain relief)
Avoid corticosteroids for 1 week after the procedure
Avoid alcohol and tobacco for 5 days after the procedure
Avoid ginkgo biloba, garlic, vitamin E, vitamin A, flax oil, curcumin and other anti-inflammatories for 5 days after procedure
Hydrate very well – at least 64 ounces of clean fresh water
Attend your 4-¬week follow up appointment
Reserve Your Appointment Today!
There's no need to feel any less sexy in your 50s than you did in your 20s. To perk up your breasts – and your love life – naturally, contact us here or call (210) 985-1700 to make your appointment today.
---
Our Location
The Wellness & Aesthetics Medical Center
540 Oak Centre Dr, Suite 114
San Antonio, TX 78258
Phone: (210) 985-1700