Vampire Facelift - Your Beauty Revived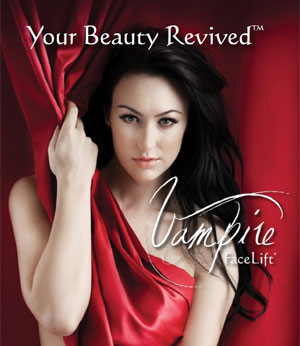 What happened to that soft, smooth skin that just recently looked back at you from the mirror? As the years go by, your blood flow, collagen, and muscle tone decrease. The loss of circulation casts a grey hue across your skin, and the loss of fat causes contours to sag. It's enough to get you researching how to look younger than your age.
The key to slowing down, and even reversing these changes, lies in your own blood. That's why we offer the Vampire Facelift® – a potent synergy between your own platelet-rich plasma (PRP) and natural regenerative property of hyaluronic acid (HA).
No more wondering how to restore collagen in the face of impending age. No more research required about how to get smooth skin on face contours that make you look older and grumpier than you are.
The most natural anti-aging treatment available is just a call away.
To schedule your Vampire Facelift® with licensed, experienced experts, call The Wellness & Aesthetics Medical Center at (210) 985-1700 or contact us here today.
The benefits of Vampire Facelift®
By synergizing your own blood's PRP and hyaluronic acid, which already exists in your body, the Vampire Facelift® can stimulate the growth of:
Fresh collagen & elastin
Enhanced fatty tissue
New blood vessels
These forms of natural healing will gradually generate luminous skin glow, improve face texture, and even out complexion tone. Unlike surgery, this procedure is non-invasive and requires little down time.
---
Vampire Facelift
---
Your Vampire Facelift®
The Vampire Facelift® is performed in 4 steps:
1. HA shaping and plumping
By applying the mathematics of beauty, Dr. Williams will deliver HA fillers like Juvederm and Restylane to sculpt a supple facial contour. These regeneration techniques were developed through facial physiology research and are the intellectual property of Vampire Facelift®.
2. PRP serum preparation
We will draw your blood, and spin the sample in a centrifuge to separate the activated platelets. This process takes about 10 minutes.
The platelets in this activated PRP contain the following blood vessel and collagen regenerating growth factors: insulin-like growth factor (IGF-1), fibroblast growth factor (EGF), transforming growth factor-beta 1 (TGF-β1), hepatocyte growth factor (HGF), and vascular endothelial growth factor (VEGF).
3. PRP injection
The PRP is injected back into your face using a very small needle and numbing cream to minimize pain. These growth factors will activate dormant multi-potent stem cells, which, believing that your skin is injured, will start creating new blood vessels, collagen, and fatty tissue.
4. Recovery
After the injection, recovery generally takes 2 to 3 days. Some mild bruising and irritation may occur, for which you may take Tylenol, but no NSAIDs for 5 days. You should also avoid ginkgo biloba, garlic, vitamin E, vitamin A, flax oil, curcumin and other anti-inflammatory nutrients for 5 days. No alcohol or tobacco either. If you eat a healthy diet and hydrate well (at least 64 ounces of fresh water daily) you will enjoy optimal results.
Why the Wellness & Aesthetics Medical Center?
The Vampire Facelift® is a science and an art. Technology training is only part of the solution. Customization to your unique facial physiology and precise needle placement are crucial, and Dr. Williams has perfected this skill while practicing PRP therapy for various conditions throughout his career.
When delivered by Cellular Medicine Association licensed specialists at the Wellness & Aesthetics Medical Center, the effects of the Vampire Facelift® improve for 2-3 months and last for at least 1-2 years.
Request Your Appointment Today!
Why look so much older than you feel, when there's a natural, non-invasive way to regenerate your facial skin? The potent synergy between your blood's own growth factors and nature's hyaluronic acid can plump and contour your face to revive the glow of younger years.
Contact us here or call (210) 985-1700 to make your appointment today.
---
Our Location
The Wellness & Aesthetics Medical Center
540 Oak Centre Dr, Suite 114
San Antonio, TX 78258
Phone: (210) 985-1700