Non-surgical skin tightening treatment to turn back time.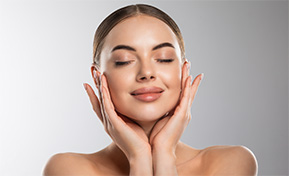 Say goodbye to loose aging skin. Our team at the Wellness and Aesthetics Medical Center in San Antonio, TX, is proud to offer the latest in advanced non-invasive laser technology for aging skin.
Unfortunately, as you age, your skin naturally loses collagen and elasticity, which can leave your skin with more wrinkles and mild to moderate sagging.
In the past, surgery was the only way to achieve optimal results for loose aging skin until now. We are proud to be one of the leading medical aesthetic clinics in Texas, offering SkinTyte - a ground-breaking laser treatment for anti-aging, providing our patients with incredible results.
We help patients looking to tone, tighten and achieve a youthful appearance without going under the knife. Call (210) 985-1700 or contact us online to schedule your consultation with an experience anti-aging practitioner and learn more about SkinTyte technology at our San Antonio clinic.
What is SkinTyte?
SkinTyte is a non-surgical skin tightening treatment for the fight against aging and gravity. It uses deep dermal heating through pulsed light technology to reverse the sagginess of aged skin.
This highly advanced procedure promotes collagen contraction and jumpstarts the healing process, resulting in new collagen and firmer skin.
Through powerful cooling mechanisms, the procedure allows the surface of your skin to remain cool to ensure you are comfortable during the treatment. SkinTyte is a safe and effective way to turn back time and rediscover that youthful glow you once loved!
What does SkinTyte treat?
We understand that every patient's skin is different and requires a tailored treatment plan to fit their individual needs. Our team at the Wellness and Aesthetics Medical Center takes the time to listen and understand your concerns and, most importantly, helps you achieve all of your aesthetic goals.
SkinTyte technology allows us to customize treatments so we can accurately target your specific areas of concern. If you have any of the following concerns, you are a perfect candidate for SkinTyte.
Fine lines and wrinkles
Loose, sagging skin on the face, neck, knees, thighs, buttocks, abdomen, and arms
Loss of elasticity
Droopiness under the eyes, jowl and neck, brow lines, or nasolabial folds
Uneven skin texture
Cellulite
Do you have a skin condition you want to speak to a medical aesthetic clinician about?
Call (210) 985-1700 or contact us online, and we will answer all of your questions regarding SkinTyte.
What are the benefits of SkinTyte?
SkinTyte is one of the top anti-aging treatments of our time because of the profound benefits it offers our San Antonio patients.
With a personalized treatment plan typically consisting of two to three treatments, in little time, your skin will lose the sag, appearing tighter and many years younger.
Below are a few reasons why you should consider SkinTyte for your anti-aging needs.
Improves uneven skin texture
Adds plumpness and fullness to skin
The most cost-effective way to achieve a youthful appearance
Reduces the appearance of fine lines and wrinkles around the lips, mouth, and eyes
Treats multiple areas, including the abdomen, thighs, knees, arms, face, neck, upper chest, and buttocks
Reduces the appearance of cellulite and stretch marks
Improves definition
Stimulates collagen production
No downtime- resume normal activity after treatment
Long-lasting results anywhere from 3-12 months
A quick and painless procedure
Only 3-5 treatments needed
Can SkinTyte be combined with other treatments?
Yes, SkinTyte can safely be combined with other treatments and can enhance and complement the impact of other body contouring and skin rejuvenation and renewal procedures. Consider high-impact combo options like:
Frequently Asked Questions
How quickly will I see results?
SkinTyte treatment results vary from patient to patient. Full results often take up to 4 months while the collagen in your skin is rebuilding and strengthening.
Is it safe for all skin types?
No matter your skin complexion, SkinTyte is suitable for all skin types. Your SkinTyte specialist will work with you to create a tailored treatment plan.
What does SkinTyte feel like?
You will feel a warming sensation during treatment, but in general, patients are comfortable and do not experience pain even without using a numbing cream.
What is the aftercare like?
There is not a required aftercare protocol for SkinTyte treatment. However, it is recommended to protect your skin from direct sunlight. Your practitioner will work with you if you need a specific aftercare protocol.
Request Your Appointment Today!
If you're tired of your skin looking, well… tired, give us a call and let our aesthetic specialists bring life back to your sagging skin. It's time to love your appearance and feel confident in your body all year round.
Set up your first consultation with a SkinTyte specialist at our Texas Aesthetics clinic today! Call (210) 985-1700 or contact us online.
---
Our Location
The Wellness & Aesthetics Medical Center
540 Oak Centre Dr, Suite 114
San Antonio, TX 78258
Phone: (210) 985-1700