---
Stem Cell Therapy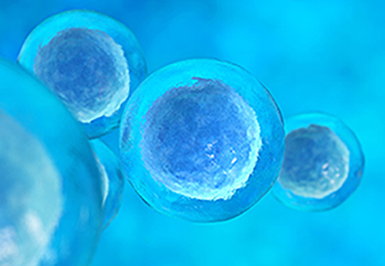 Often referred to as mother cells, stem cells are responsible for the early development of every organ and tissue in the body. Stem cells also play a critical role in the body's healing capabilities. Stem cells can self-renew to reproduce themselves many times. They also maintain pluripotency – when a pluripotent cell divides, it can develop into any of the 220 cells in the body. Due to their versatility, the body uses them in areas of cell death, resulting from disease or injury, to help promote cellular regeneration.
Stem cell therapy harnesses the body's powerful repair mechanism by injecting stem cells into areas of cellular deficiency. By doing this, the stem cells stimulate the repair of injured tissue.
Bone marrow transplants, the most popular and widely-accepted stem cell therapy, have been performed for almost 50 years by replacing damaged bone marrow with healthy bone marrow stem cells. As a result of the positive outcomes experienced from bone marrow transplantation, there is now a multitude of health conditions commonly treated with stem cell therapy.
Cosmetic Stem Cell Therapy
Platelet-rich plasma (PRP) is blood plasma enriched with platelets. PRP contains several growth factors that stimulate the body's repair response and help bring stem cells to a specific area of the body. Modern cosmetic procedures often inject PRP to stimulate the growth of collagen in the skin or keratin in the hair.
For patients who require advanced care, PRP combined with stem cell therapy greatly accelerates tissue growth and repair. Accelerated growth occurs when the platelets aid the stem cells; they help determine what type of cell the stem cells need to be and guide stem cells to the specific area of the body requiring regeneration.
The Wellness & Aesthetics Medical Center uses stem cell therapy in conjunction with PRP therapy for the following cosmetic procedures:
Most often, stem cell therapy is recommended for patients over the age of 50. However, not every patient will require both therapies; each patient will receive a comprehensive exam to determine the best and most effective treatment option.
---
Stem Cells - The Future of Medicine
---
Orthopaedic Stem Cell Therapy
Deterioration of joints and connective tissues as a result of aging or injury is a condition that can cause considerable pain and discomfort. Traditional treatment plans habitually suggest invasive surgeries with extended recovery times.
Stem cell therapy is a viable, non-invasive alternative for patients facing surgery or joint replacement. Similar to cosmetic stem cell therapy, orthopaedic stem cell therapy uses the body's natural repair mechanisms and growth factors to ease chronic muscle and joint pain. By injecting stem cells into damaged and injured parts of the body, it restores the affected bone and cartilage.
The Wellness & Aesthetics Medical Center uses stem cell therapy for the following orthopaedic conditions:
Arthritis
Torn ligaments
Tendon inflammation
Muscle pain
Pain in the knee, shoulder, hip, back or neck
Sprains
It typically takes two to three months for injured tissue to regenerate but results may vary depending on pain levels and a patient's overall health condition. Frequently, lifestyle modifications are encouraged during the healing process concerning the diet, physical activity and supplementation of certain nutrients.
Umbilical Stem Cell Therapy
Similar to other cells found in the body, stem cells age as we do. An innovative approach to stem cell therapy is the use of stems cells exclusively derived from umbilical cord tissue. Considered the gold standard in stem cell therapy, these safe and efficacious donor stem cells help to regenerate and repair tissue without posing the risk of internal rejection by the patient.
The Wellness and Aesthetics Medical Center utilizes umbilical stem cells to treat a variety of orthopaedic, aesthetics, sexual health, cardiovascular and autoimmune conditions. To learn more about umbilical stem cell therapy, click here.
Additional Stem Cell Therapy Services
In addition to the cosmetic and orthopaedic services mentioned above, the Wellness & Aesthetics Medical Center is able to treat many other health conditions with the use of stem cell therapy. These conditions are treated offshore and can help to prevent and ease symptoms of many chronic diseases.
To learn more about stem cell therapy, the conditions we are able to treat, or to schedule an appointment, contact The Wellness and Aesthetics Medical Center today at (210) 985-1700.
---
Our Location
The Wellness & Aesthetics Medical Center
540 Oak Centre Dr, Suite 114
San Antonio, TX 78258
Phone: (210) 985-1700